About Us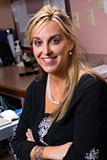 Marcello Design, LLC was founded in 1991 to provide art direction with an understanding of message, media and marketing objectives. Since then, the firm has worked with a number of businesses throughout the Tri-Parish Region and Greater New Orleans Metropolitan Area to develop brand awareness and strengthen profit lines. 

The principal, Maria Marcello has a M.A. from Syracuse University in Advertising Design and has studied at the School of Visual Arts in Manhattan. She has worked as a Sr. Art Director for several major ad agencies in New Orleans on local, regional and national accounts.
Joe Ashworth - Web Designer
Joe Ashworth has been employed by Marcello Design since 2008, providing web design, web development, and internet marketing and consulting. Joe has worked in Internet Design and Development since 1998, creating visual design and developing technology to implement those designs over several hundred websites.  His experience with emerging Internet Marketing strategies, implementation, and reporting provides methods of tracking strategy-effectiveness mid-campaign, enabling flexibility in direction based on measurable results. He employs standards-compliant coding and technology infrastructures to ensure predictable results across all technological platforms.
Services
Internet Media / Web Design

Television Commercial Project Management / Placement

Radio Production / Placement

Banner Campaigns

Media Placement / Project Management

Graphic Design / Art Direction
If you would like to find out more about Marcello Design, please consider contacting us.
Awards
Our work has received over 46 national and/or local awards from organizations including:
Art Directors and Designers Association

American Advertising Federation

University & College Designers Association

International Association of Business Communicators

Public Relations Society of America

Women in Communications

American Business Women's Association

Council for the Advancement and Support of Education
Featured Article
BRANDING
Are You a Sneaker or a Nike?
By Gwynn Torres
If you were an athletic shoe, wouldn't you prefer to be one that is well known and well respected rather than an undistinguished, generic sneaker? 
What does the athletic shoe industry have to do with you? You run a medical practice. Yet when it comes to branding your business, the challenges are similar. Like Nike and its competitors in the sports footwear arena, you want to establish your practice as the best known and most highly regarded in your marketplace. How do you do that? The same way Nike, Coke, Oprah, Ochsner, MD Anderson and hundreds of leading products and businesses do. Branding.
Read More >>